THE HURRICANE OF EMPTINESS. TEWA Music / NONG productions, 2003. A release from back in the first days when there were only three cowboys – but still,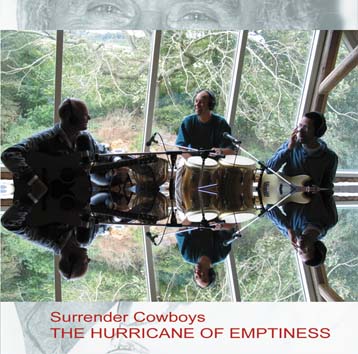 with the characteristic Surrender Cowboy style of sound and energy (between playing and non-playing : "nong playing")
Eleven pieces of nong music, composed and performed by Surrender Cowboys. Some of the pieces clearly fall in a genre and style that does not exist. Some have no words and may resemble new age music although more jazzy. Others have words and the form of pop songs or ballads. But in fact they are all basically sounds from the place beyond the difference between word and silence, and between plan and spontaneity. The songs have words from poems by Michael Barnett
The CD can be ordered via email to buy-CD@surrendercowboys.com.